UPDATE MAY 2020.
CALHOUN COUNTY ANIMAL CENTER IS NO LONGER OFFERING DECLAWING PROCEDURES! THE SON OF THE PREVIOUS OWNER HAS TAKEN OVER THE MANAGEMENT DUTIES.
Know better, do better.
————————————————————————————
September 2018
I'm sad and disheartened.
My mom tried to privately and respectfully inspire the owner/operator of Calhoun County Animal Center​, Sindy Buford, to not allow cats that people adopt at her Michigan shelter to be declawed by her vet, Dr Dale Borders, but she actually said that they don't think declawing is inhumane or mutilating.
After my mom reached out to this Animal Center they took off the price of their declaws from their website.
---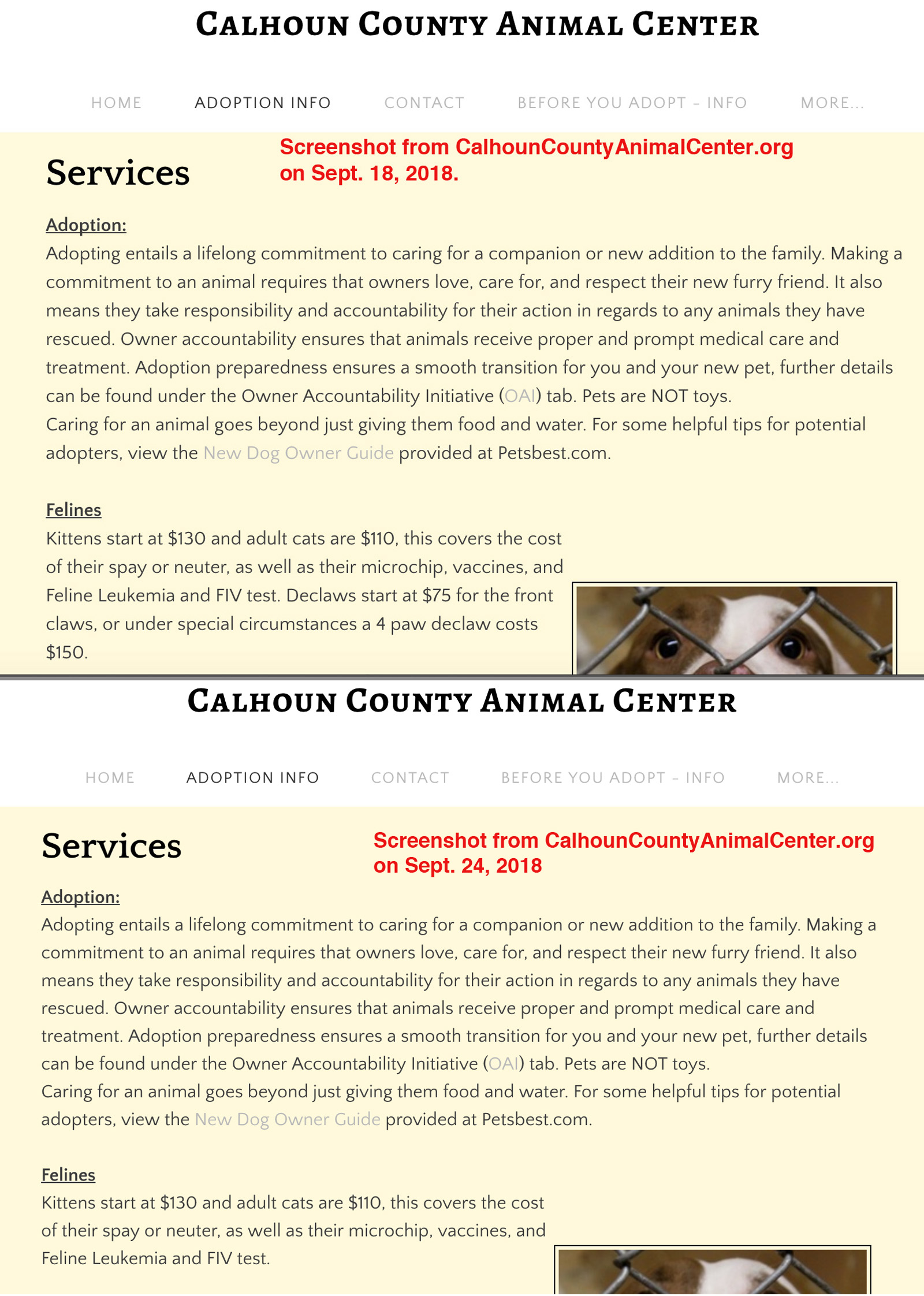 ---
Is this progress?
I don't think so because she is still allowing 2 paw declaws to be done if people who adopt cats at CCAC ask for them.
My mom emailed Sindy Buford lots of facts about declawing and the humane options.
My mom spoke to her on the phone yesterday and Sindy Buford said that if a declaw is done properly and the appropriate litter is used for two weeks, then they don't have a problem with it.
My mom asked Sindy Buford if the person educating her about declawing was her vet, Dr Borders.
Sindy Buford said, yes.
My mom told Sindy that with all due respect, she is uneducated about the facts about declawing.
Sindy said that declawing is the same as TNR, spay and neutering at an early age, and spay/neutering after a certain age and they all have pros and cons to them.
Sindy said that she has a Masters Degree and keeps up with all of many things because she is also the President of the Battle Creek Kennel Club.
She told my mom that she's not uneducated and said that with all due respect the phone call is over and hung up on her.
So, I ask you to try to EDUCATE this owner/operator of CCAC about the FACTS and STUDIES about declawing. (CCAC is deleting all the respectful and educational comments from you off their facebook page https://www.facebook.com/Calhoun.County.Animal.Center which is sad because many of their adopters might be educated about the facts about declawing from them.)
Please do not be mean or threaten. Remember, when you are disrespectful, it hurts the cause, it's wrong, and it often hurts me. #TakeTheHighRoad #Respect #Educate
It's also ironic that the saying at the end of Sindy Buford's email says, "The greatness of a nation and its moral progress can be judged by the way its animals are treated." Mahatma Gandhi"
Please go to my website and sign up on my mailing list. I'm going to need your help soon. www.citythekitty.com
If you can, also please support our work on this cause. We work on these campaigns and stories from sun up to way past the sun goes down.