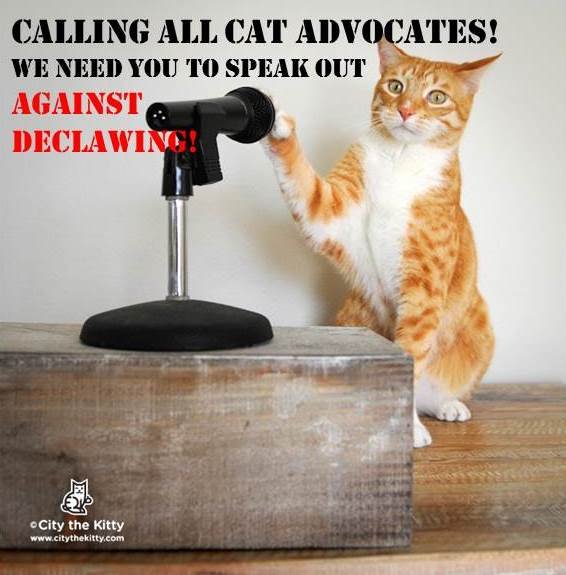 Please join City the Kitty in solidarity with The Animals' Battalion for our Do No Harm Day and anti-declaw rallies in Cypress, CA. at 10.30 am and in Tarrytown, NY at 3 pm. on May 4th, 2018.

If you can't make it to one of the rallies, then please join us on May 4th by posting photos of your cats with your own Do No Harm Rally signs and messages and put these hashtags in your captions, especially on Twitter! #DoNoHarmDay #BanDeclawing #MakeItALawDontDeclaw
We are rallying to remind these veterinary associations and declawing veterinarians to do the right thing and STOP blocking legislation that would ban one of the most harmful and mutilating procedures that vets perform and that goes against their veterinary oath.
Here is our Facebook page for the Southern California Do No Harm Rally in front of the Southern California Veterinary Medical Association at 5576 Corporate Ave, Cypress, CA on May 4th, 2018 at 10.30 am.. Do No Harm Southern California Facebook page
Here is our Facebook page for the Tarrytown, NY, Do No Harm Rally at the NY Veterinary Conference at 3pm. Facebook page for the Do No Harm Rally, Tarrytown, NY
Declawing is an inhumane amputation procedure that is being done to around 10 million cats a year in America. Though declawing has been banned in many countries around the world, 95% of these feline paw mutilation procedures are performed to protect the cat owner's furniture.
Declawing always harms the long-term health and well-being of a cat and subjects cats to a lifetime of some sort of pain and suffering from walking on the amputations. It increases negative behaviors such as biting and eliminating outside the litter box. It produces more complications for the cats' guardians and sadly it increases the rates of abandonment for these now mutilated and defenseless cats. Declawing has no place in an ethical or humane veterinary practice.
Please join us in our efforts to publicly denounce declawing while educating the masses and promoting anti-declaw legislation.
We need cat advocates to come out and take a stand.
The anti-declaw movement is continuously growing. Our next move is to get a statewide ban in America.
This rally is a step in that direction and the first of its kind! We will have these rallies in every state someday soon!
Here's how the California Veterinary Medical Association stopped the anti-declawing bill in April 2018. How the CVMA Stopped A Bill that is Good for CATS but bad for their declawing vet's pocketbooks