January 12, 2022
City the Kitty is calling on animal lovers across the world to investigate the ASPCA on why they do not want declawing banned and why they have a declawing position statement that is on the side of declawing veterinarians and not cats.
The ASPCA does a lot of good things to help animals but unfortunately they do not want declawing banned.

If the ASPCA has a declawing position statement that completely condemns this animal cruelty (declawing) and helps pass laws to ban it, then more cats would be protected from this inhumane, cruel, and very harmful amputation procedure. Look at the legislative work that they support. ASPCA's policy priorities
Why wouldn't the ASPCA want a cruel, inhumane and unnecessary amputation procedure banned, especially since it is not only bad for cats but it's bad for veterinarians, veterinary professionals and cat owners. Here's our story. Declawing is bad for veterinarians, cat owners, and cats.

The ASPCA keeps changing the excuse to condone declawing.
The ASPCA says that declawing can save a cat from being euthanized. Where is their data that proves this? There is none.

Declawing does not save the lives of cats and in fact the opposite often happens and thousands of declawed cats each year are abandoned or relinquished to shelters because of the behavioral issues they develop from their toe bone amputations. Many of these declawed cats are euthanized.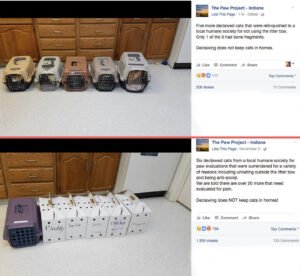 Declawing is banned in New York state and many cities in America and the laws are enforceable by officials in those locations.
Why did the ASPCA change their excuse to condone this animal cruelty (declawing)?
The ASPCA's declawing position statement in 2015 and before: " The ONLY circumstance in which the procedure could be condoned would be if the health and safety of the guardian would be put at risk, as in the case of individuals with compromised immune systems or illnesses that cause them to be unusually susceptible to serious infections."
The ASPCA's declawing position statement in 2016. " The ASPCA is strongly opposed to declawing cats for the convenience of their owners or to prevent damage to household property. The only circumstances in which the procedure should be considered are those in which all behavioral and environmental alternatives have been fully explored, have proven to be ineffective, and the cat is at grave risk of euthanasia…"
The ASPCA's full statement- https://www.aspca.org/about-us/aspca-policy-and-position-statements/position-statement-declawing-cats
Here's the ASPCA's Destructive Scratching page where they ask, "Should you declaw your cat?" https://www.aspca.org/pet-care/cat-care/common-cat-behavior-issues/destructive-scratching
Both of those excuses are outdated and not supported by current peer-reviewed, scientific evidence and data.
The ASPCA's declawing position statement is being used to defeat legislation that would protect innocent cats from this barbaric animal cruelty. Here's a 2 minute video showing you an example of a declawing vet who helped stop an anti-declawing ordinance in WY in 2021. Declawing vet using the ASPCA's declawing statement to stop an anti-declawing ordinance

Pro-declaw cat owners are using the ASPCA's declawing position statement to justify having it done to their cats.
Declawing veterinarians are using the ASPCA's declawing position statement to justify keeping this cruel, mutilating, and unnecessary amputation procedure legal so they can keep making easy and good money from it.
Why doesn't the ASPCA follow the latest science, data, and peer reviewed studies about declawing and completely condemn it and help pass laws to end it?
The American Association of Feline Practitioners (AAFP) has stated, "There is no current peer-reviewed data definitely proving that cats with destructive behavior are more likely to be euthanized, abandoned, or relinquished." AAFP's declawing position statement. https://catvets.com/guidelines/position-statements/declawing
VCA stated, "It is a common misconception among veterinary professionals that scratching behavior is one of the most common reasons for relinquishment of cats to shelters. Our experience and that of shelter operators has taught us differently. Other problems, house soiling and aggression, are listed as the top two behavioral reasons cats lose their homes. Scratching behavior is far down the list, right next to reasons like the cat requires too much attention, and scratching is rarely a reason given for relinquishment." http://citythekitty.org/vca-animal-hospitals-stopped-declawing/
VCA and Banfield banned declawing in all their 2000 + vet clinics in early 2020.
Fear Free Pets, AAFP, and Mission Veterinary Partners also banned declawing in 2021.
This peer reviewed study in 2021 showed that banning declawing does not result in more cats relinquished to shelters or euthanized. https://pubmed.ncbi.nlm.nih.gov/34514907/
Here's a 2018 quote from Heather Cammisa the Pres. & CEO of the biggest shelter in NJ, St Hubert's Animal Welfare Center. "My communications to legislators and others included statements that destructive behavior is not a significant reason for surrender, nor is it a top call to our pet helpline and therefore that a ban, in our expert opinion, would not increase relinquishment (and the corresponding alarm of euthanasia), as is claimed by some in the veterinary community."
Declawing was banned by veterinarians in Nova Scotia in 2018. We asked the SPCA Nova Scotia's Director of Programs & Administration in March of 2019 if they had more cats coming into their shelter after the ban on declawing. She said, "We've seen very little impact, some critics thought we would see an increase in owner surrenders for destructive scratching however that has not been the case."
Here's a statement Brenda Barnette, General Manager of Los Angeles Animal Services Dept., "I am the General Manager of Los Angeles Animal Services Department (LAAS), which operates the public animal shelters in Los Angeles, a city of over 4 million. Los Angeles, where declawing has not been permitted since 2009, has a proud tradition of being on the forefront in the humane treatment of animals.
Since the declaw ban, the number of cats entering our shelters dropped 43.3%. I attribute the decrease in relinquishment of cats to a decrease in behavioral problems, particularly biting and litter box avoidance, which are widely recognized to be the result of declawing and that are reasons for cats to be surrendered to shelters. Furthermore, our adoption rate for cats has actually increased. We at LAAS strongly believe that a no-declawing policy saves the lives of cats."
Declawing was banned in New York State in July 2019 and there hasn't been an increase of cats in shelters or cats being euthanized in that state.
Here is a June 26, 2020 statement from the biggest animal shelter in the world that is based in New York. North Shore Animal League America.
"We are approaching the one year mark since the ban went into effect on July 22nd, 2019. We have not seen an increase in owner surrendered cats as a result of the ban. NSALA supported the ban and did not provide declawing services in our Pet Health Centers even before the ban went into effect. There are many other humane options to address the cat's innate need to scratch. We have seen firsthand the damage caused by declawing both physically and behaviorally when owners want to surrender their declawed cats. We are happy to know that this practice has stopped in New York.
Joanne Yohannan, Senior Vice President of Operations, North Shore Animal League America"
Here's another statement from Animal Care Centers of NYC .
"June 26, 2020
Anyone thinking that the declawing ban would lead to an increase in cat surrenders in New York City might be surprised to learn that ACC, the only open-admission shelter in NYC, has actually seen a decline in cat intake. At the same time we have seen a 25% increase in the amount of direct adoptions our organization has processed over the past year. The ban does not seem to have affected people's desire to adopt cats in their natural state.
Katy Hansen
Director of Marketing and Communications
Animal Care Centers of NYC"
WHAT YOU CAN DO.
1) Please send a polite note to the ASPCA and ask them why they won't support the bills to ban declawing and why they are using the death or declaw excuse. publicinformation@aspca.org If you donate to the ASPCA then tell them you will not keep donating to them until they completely condemn declawing and work to pass laws to ban it.
Send us a note if you get a reply. citythekitty@gmail.com
.
3) Send a polite note to Subaru and ask them to inspire the ASPCA to support banning declawing and to completely condemn it. Subaru is the largest corporate donor to the ASPCA. They've donated 30 million dollars to the ASPCA since 2008.
Here are their corporate contact people, Diane Anton- danton@subaru.com and Dominick Infante- dinfante@subaru.com (We sent them an email on Dec. 29th. and haven't heard back.)
————————————————-
This is the last we heard from the ASPCA about this issue when they sent this note to many of City the Kitty's supporters in 2017 and the note to City the Kitty's exec. director. There are lies in their note. Laser declawing is not better than the other methods and it's just as mutilating. There are many studies that prove that declawing causes behavioral issues.
"Dear Friends of Animals,
Thank you for contacting the ASPCA.
Declawing is one of the most controversial issues in the pet care realm. The ASPCA is opposed to routine declawing of cats. It should be reserved for cases where there are health issues involved or all efforts to retrain the cat to scratch in appropriate areas have been exhausted.
Laser surgery for declawing is considered to be superior to the traditional surgery methods. There is less bleeding and pain, and the recovery time is much shorter.
Declawing is a painful procedure, and is an actual amputation of the first segment of a cat's toes. A cat will lose his first line of defense and may have some trouble climbing because he can't sink his claws into the surface and shift his weight to help balance himself.
There have been no scientific studies that prove that there are any behavioral repercussions from declawing a cat — only anecdotal claims that declawed cats are more likely to soil out of the litter box, bite or hide.
Declawing is illegal in much of Western Europe but a fairly common procedure in American veterinary offices.
For further information on the ASPCA or other humane issues, you may wish to visit our website at http://www.aspca.org.
Thank you for your concern and for being an animal welfare advocate.
Sincerely,
Heizl
The ASPCA
Public Information Department"
Here's the note they sent us in March 15, 2017.
"Apologies for the delay in getting back to you. It looks like you've already viewed our updated position on cat declawing: http://www.aspca.org/about-us/aspca-policy-and-position-statements/position-statement-declawing-cats. We continue to strongly oppose the procedure. As noted in the statement, our experts believe that legislation to make declawing illegal, while well-intentioned, can be problematic, because, in rare cases, the procedure may be justifiable as a last resort to prevent euthanasia.
All the best,
Olivia
Olivia Melikhov
Senior Manager, Social Media
Media and Communications
ASPCA®"
Here is a note they sent to us in 2015.
"Thank you so much for reaching out and apologies for the delay in getting back, I had to consult with a few departments and experts internally here. Our organization is opposed to the inhumane practice of cat declawing and we think it's really admirable that you and City the Kitty are working to raise awareness about this important issue. We are actually in the process of working with our experts to revise and update our position on declawing. In the meantime, we are refraining from participating in proactive advocacy on the issue.
All the best,
Olivia
Olivia Melikhov
Senior Manager, Social Media
ASPCA®
520 Eighth Avenue, 7th floor
New York, NY 10018″