Photos posted on Facebook by VCA Animal Hospitals.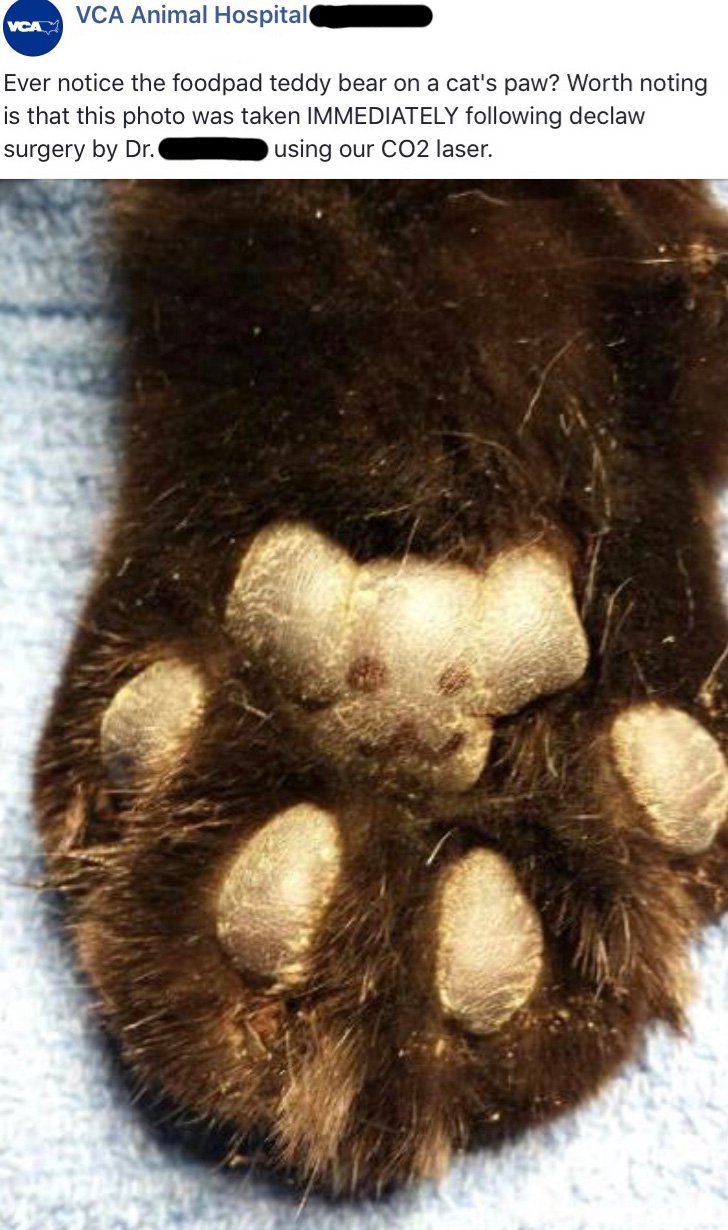 ---

—————————————————————————————————————————————————————
Please take 60 seconds to sign our petition. Your voice matters! VCA lied to many people in 2016 and said they would stop declawing within the year.
Mars Inc. owns BluePearl vet hospitals, VCA Animal hospitals, and Banfield Pet Hospitals.
VCA Canada stopped declawing in May of 2018.
Banfield Pet Hospitals stopped declawing in Jan. 2020. Here's their declawing position statement. Banfield Declawing Stance
We asked VCA Animal Hospitals U.S on Instagram, why they haven't done the same thing.
On April 25, 2019 they sent us a reply with their excuses as to why they won't stop declawing.
Why is VCA U.S waiting for a consensus on a declawing policy when they should just do the right thing like VCA Canada did?
Our hospitals are staffed by more than 5,000 fully qualified, compassionate veterinarians. Our teams are dedicated to providing pets the best medical care. As reflected in our mission statement, a pet's health is our top priority, and excellent service is our goal. This is something we believe to our core. We want only the best for pets.
On April 22, 2019 on Instagram, VCA's social media representative confused local and national declawing policies, for which we apologize. We value transparency and believe it is our duty to advise you that an unintentional mistake was made by a team member.
We too applaud VCA Canada for implementing a nationwide ban on declawing, which has been outlawed in many US cities and over 40 countries.
As of now, the US veterinary community hasn't reached consensus on a national policy. In the interim, our veterinarians, after discussing options with the cat owner, are expected to decide on the best medical course of action for each situation.
In an effort to be transparent, we want to correct the information communicated on Instagram and clarify that in the 800+ VCA hospitals in the US, we are actively developing and implementing medical policies that improve the lives of pets.
VCA recognizes and appreciates your advocacy for feline rights. We believe our organizations are aligned in our mission to protect cats. As soon as a national policy is finalized, we will let the veterinary community and animal advocates nationwide know."
———————————————————————————————–
In a story in Today's Veterinary Business journal in April 2019, VCA Canada's national medical director, Danny Joffe, talked about why VCA Canada stopped declawing last year. 80 out of 82 VCA Canada veterinarians were in support of banning declawing. They all based their decision on the latest research about declawing that showed it caused pain and adverse behavior in cats.
Here are some of his quotes in this story.
"One of our underlying themes at VCA is that we don't dictate medicine, so we have to be very careful with things like this," said Danny Joffe, DVM, DABVP (Canine/Feline), national medical director for general practices for VCA Canada. "We surveyed our veterinarians and they were massively in support of a declaw ban." "After discussing it with the two opposed, they actually came onside as well," Dr. Joffe said. "So, we were able to reach consensus."
VCA U.S. is still allowing declawing to be performed in their 800 plus animal hospitals. Todd Tams, the national medical director of VCA U.S., explained why they haven't stopped declawing.
Here are some of Todd Tams quotes from this story.
"There are so many organizations working on this and so many geographical differences in the U.S.," "Even in the state of California, where some areas have banned it, there are still so many varying opinions."
"We try really hard not to do this procedure."
"Our focus has been to proactively talk about the controversy with our medical and leadership teams and with clients to educate everyone on new recommendations and alternatives."
"When a client asks to have a cat declawed, the doctor has a conversation with the client in the room, explains the procedure and offers alternative options. We're able to successfully dissuade clients from doing it in most cases."
Here's the link to the PDF for this story. Today's Veterinary Business
---
We had our researchers check on some VCA hospitals in America, on April 22 & 23, 2019, to see if they stopped declawing to ask for the cost of a declaw procedure. Here is what they found.
VCA Franklin Park Animal Hospital, Franklin Park, IL
The VCA employee asked, "Do you want 4 paws or just 2?" She said a 4 paw declaw with a spay is $447. She said that their Medical Director, Dr Pagor does the declaws. She said they don't do them as much anymore because some people are against it.
VCA Del Lago Animal Hospital, Scottsdale, AZ.
VCA Del Lago has been at this location since July of 2007. Here's a 2011 advertisement from the VCA Del Lago Animal Hospital's Yelp account with declawing on it. The Medical Director, Dr Barnes, is still performing declaws at this VCA.
An employee said that a 2 paw declaw and spay is $908.25.
VCA NorthEast Animal Hospital, Grand Rapids, MI
Investigator asked for the price of a declaw. VCA employee asked , "Would it be two paw or all four?"
$550 for an all 4 paw declaw and spay. They said they are booked out about 2 months and Dr Hoover is the one who does those procedures.
VCA Animal Hospital of Garden City, Garden City, MI
Investigator asked for the price of a declaw. VCA employee asked, "Did we want to do a 2 paw or 4 paw?" It's $573 for an all four paw declaw/spay.
Dr Davis does the declaws. Asked about a laser declaw and they said you can go to their doctors wife's practice for a laser declaw, Sheehy Animal Hospital.
(Sheehy Animal Hospital's laser declaw and spay cost around $443. Their employee said that the laser helps with inflammation, swelling, heals cleaner, and there's less blood loss. She said Dr Sheehy does the declaws and she is not doing as many recently because less people are asking for them. She said a couple years ago when declaws were really popular, she did a lot of them. They said that they haven't seen any negative effects from their laser declaws.)
VCA Farmington Hills Animal Hospital, Michigan.
Employee said all their vets do declaws "multiple times." They say they use a laser that cauterizes while it cuts and say it deadens the nerve endings which makes it not as painful and a quicker recovery. They said that a spay/declaw is around $670. They said they can do a four paw declaw but some of the doctors won't do it at the same time. They would have to do either the front paws and then the back paws at a different time.
VCA Feist Animal Hospital, Saint Paul, MN
A spay/declaw and vaccinations are around $1200.
VCA Cedar View Animal Hospital, Apple Valley, MN.
A spay/declaw is around $800.
VCA Pets First Animal Hospital, Richmond, VA
A declaw is around $967.77 and the cat has to stay in the hospital for three days after the declaw.
VCA Lake Jackson Animal Hospital, Lake Jackson, Texas
A spay/declaw is around $470 and all their vets do them. They recommend Dr Pitts for the declaw.
Not one of these VCA's, in our short survey, said that an exam to discuss the procedure and the humane options would take place before the procedures.
Michigan VCA Animal Hospitals
VCA Brighton Animal Hospital in Brighton, Michigan

Starting prices for their laser declaws are as follows.
2 paw declaw: $385.33
4 paw declaw: $503.00
Employee was asked if they do declaws often and they said, "I don't want to say we do them once a week, but we do a lot. They used to be more popular."
VCA Swartz Creek Animal Hospital in Swartz Creek, Michigan

2 paw declaw: $204 including pre surgery blood work, pain meds and special litter.
They do not perform 4 paw declaws.
The employee was asked if the declaw procedure was fairly common at this practice and they said, "Oh yes."
The employee said that the sooner the better for the declaw, since as the cat gets older it will be harder to do the procedure. They said depending on the cat's size, she may need extra pain meds.
VCA White Lake Animal Hospital in White Lake, Michigan

2 paw declaw: $307
They don't do 4 paw declaws.
Employee said a declaw is not recommended in older cats as it can be harder for them to get used to walking on their toes and they try to do declaws on cats under 1.5 to 2 years old. Employee explained the procedure and said they cut the toe to the second knuckle. They said you need to use Yesterday News so litter doesn't get trapped and cause an infection.
Employee said they are "trying to get away from it", but said they did a declaw last week.
They have two doctors who perform them and they are both comfortable with the procedure; they have been doing it for awhile the employee said.
VCA Countryside Animal Hospital in Howell, Michigan

They use the "traditional" scalpel method and a laser method for their declaws. The scalpel front declaw is $300.00 and the laser front declaw is $420.00.
A four paw declaw is only performed with the laser method. This method costs $550.00. The employee said that they have been declawing for years.
The VCA Oshtemo Animal Hospital in Kalamazoo, Michigan

You have to have an exam first and the doctor will provide information about the process and will allow the owner after that to make the decision if they want to move forward with the procedure.
The employee said this hospital is possibly going to stop performing the procedure but as of right now they are still doing them and have performed them for years.
They don't perform 4 paw as it is not recommended.
A two paw declaw is $411.97.
---
December 2019 survey results from some AAFP and VCA CAT FRIENDLY Practices.
VCA county West Animal Hospital, Illinois– $420 for a spay/declaw. They say they only do a 4 paw declaw for someone who is elderly or with a clotting disorder.
VCA Cat Hospital of Chicago, Illinois. The medical director is Dr Colleen Currigan. Her website says she serves on the Board of Directors of the American Association of Feline Practitioners (AAFP), where she was its President in 2016.
Researcher asked about a price for a declaw and the employee said, "That's a tricky question. We generally discourage it. " They said they only do them if there is a medical issue for the cat or for the owner or if you have a strong reaction to cat scratches. Cost of a declaw is from $1200- $1400.
VCA Allendale Animal Hospital, Michigan. A 2paw declaw is $438 and a 4 paw declaw is $514.
VCA Allenwood Animal Hospital, New Jersey. They said that they generally don't do them unless there's a justifiable reason. They have to be a kitten. Around $500.
VCA Castle Hills Companion Animal Hospital, Texas. They said they are trying to get away from doing declaws but it's not that they won't do them. Asked, "Are you thinking of 2 paws or 4 paws?" They use a laser. A 4 paw declaw is $678.88.
VCA Bent Tree Animal Hospital, Texas. (new VCA) They say both doctors are good at declaws and Dr Kimball does more of them.
VCA Park Cities AH Dallas, Texas
They said, as a VCA we don't declaw and said that as a whole company they decided to not do it anymore. They said that there is new research that shows declawing causes long term medical issues. Suggested cat trees, nail caps, trimming nails and said declawing is bad for cats.
Cats Exclusive VCA Rutherford, New Jersey. They don't declaw. They were recently bought out by VCA. They are also an AAHA and Fear Free hospital. They said they stopped declawing because their declawing vet, Dr Jose Pla retired. The employee said that they don't do declaws because it is cruel and inhumane.
————————————————–
The back story about the note that VCA sent us.
We reached out to VCA America on their Instagram account (@VCA) on April 22, 2019 and asked them when are they going to stop declawing. A VCA representative told us that VCA stopped declawing in all 900+ animal hospitals a couple years ago.
Why did they tell us that? VCA America hasn't stopped declawing?
They asked us to take down the photos that we are using that some declawing VCA Animal Hospitals posted on social media.
They also told many people on their Instagram posts that they stopped declawing!
On April, 23, 2019, these comments that VCA posted were removed from their Instagram posts.
——————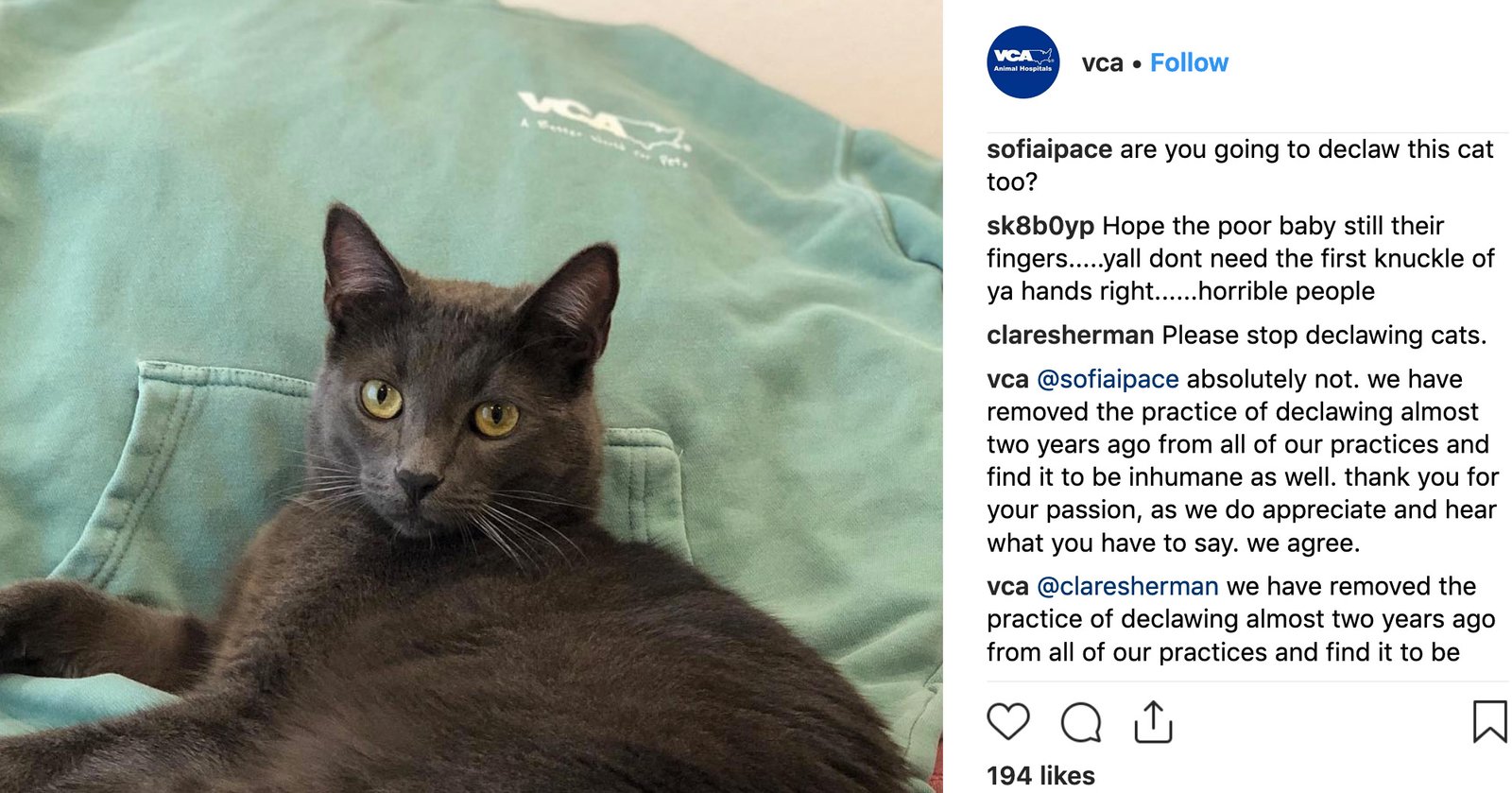 Please take a minute and sign our petition to Mars Inc, the company that owns VCA Animal Hospitals.- Petition to Mars Inc, the company that owns VCA
——————————————————————————
Here is the conversation in a private message from VCA on Instagram.
City the Kitty-
Can someone please get back with us and let us know when VCA will do what VCA Canada did a year ago, and that is to stop allowing declawing in your vet hospitals. There's enough information and studies out that show how mutilating, inhumane, and unnecessary this barbaric amputation procedure is. What is taking you so long to do the right thing? Are you getting pushback from your declawing vets or is it that declawing brings in a lot of revenue for VCA? We hope to hear from you soon. Thanks.
VCA-
We have removed the practice of declawing almost two years ago from all of our practices and find it to be inhumane as well. Thank you for your passion, as we do appreciate and hear what you have to say. We agree.
These posts that you are publishing are outdated and not reflective of the changes implemented.
Please remove these posts, as they are not accurate. we do not offer declawing.
City the Kitty-
Wait so you're saying that no VCA practices declaw cats. Please let me know who I'm speaking to so that I can make an official announcement.
VCA-
VCA has removed the practice of declawing cats. You are speaking with a VCA representative who helps oversee our social media channels. I am unable to give you my personal information. I can assure you that this practice has been removed.
The last time you posted about us was when one of our hospitals WRONGFULLY advertised this practice. We were infuriated and immediately had them take that advertisement down. We have since then have been very adamant and clear to our locations that this is against our morals.
Please let me know this location that you saw this post published on. It is blacked out. We take this extremely seriously as this is not our standard of care for our patients.
City the Kitty-
I'm a little confused so maybe you can clarify things. So VCA has stopped declawing and declawing is against VCA's morals. Can you explain why declawing is it against VCA's morals. Thanks.
VCA-
The practice no longer aligns with our morals for various reasons. Thank you for your inquiry and thank you for advocating for cats. We admire the work that you do.
As far as providing the names of the locations you have screenshotted, this would be extremely beneficial for us to know so that we can ensure that all 900+ locations are up to the same standard of these morals.
City the Kitty-
The practice of Declawing doesn't align with VCA's morals or the practice of posting declawed cats on social media doesn't align with VCA's morals? So you are saying all VCA's in America I have stopped declawing and this was put in place a couple years ago? I'm just trying to get the facts correct. This is very encouraging news so I want to get it accurate.
I'm so happy to hear you share our passion to end declawing. We both are on the same side which is on the side of cats. Maybe we can work together to help cat owners learn about the easy, humane options for their cat's scratching needs.
I would love to believe that this is the truth and VCA America has stopped declawing however we aren't sure that it is true. Will you ensure that any VCA that is still declawing stop? Maybe they didn't get the internal memo that said all vcas should stop declawing a couple years ago.
VCA-
We have ended the practice of declawing cats. If you need any other information please reach out to our legal department. Thank you and have a good day.
Here's some declawing information on VCA's website- VCA and Declawing link
———————————————————————————————————————–
---