Story published Feb. 23, 2021.
Screenshot taken on Feb. 23, 2021 of a Google review for Gentle Doctor Animal Hospital.
The Gentle Doctor became a Banfield hospital in Oct. 2019 according to an employee that works there.
Banfield banned declawing in Jan. 2020 in all their hospitals.Banfield's Declawing Policy
———————————————————————————————————————————————————-
Banfield Animal Hospitals lead the way in January 2020 and banned declawing in all their animal hospitals. VCA Animal Hospitals followed in their footsteps and banned declawing in Feb. 2020.
We reached out to Banfield and asked them some questions since The Gentle Doctor Animal Hospital is a stand alone Banfield hospital which means they are not in a Petsmart and they don't use the Banfield name.
The Public Relations manager for Banfield wrote us back and said, "Our declawing policy is to be followed in all of Banfield's hospitals. There is no difference between PetSmart and stand-alone hospitals as it relates to compliance to this policy. We track all of the procedures done in our hospitals and do not see evidence of Banfield hospitals performing elective declaws. Per our guidelines, we recommend the removal of abnormal claws when medically necessary only.
All anesthetic procedures performed in our hospitals are required to be entered into Banfield's electronic medical records database."
We spoke to the manager at the Gentle Doctor Animal Hospital on Feb. 24, 2021. We told him that they are getting a lot of great reviews for their laser declawing by Dr Fujikawa and wanted to know more about this.
The manager said we would have to ask Dr Fujikawa those questions.
We told him that one of his employees said that Dr Terri Fujikawa does declaws fairly often, around one a week, and asked if that's true. He said, "Could be" and that he is not sure of how many she performs.
We asked him if they received the notice about how Banfield banned declawing in Jan. 2020 and asked how they are getting around this requirement. He said we need to contact Banfield corporate.
He told us, yes they do declaws there and we need to get Banfield Corporate's response as to why that is occurring.
We said we did contact them and they said all their practices are required to report procedures involving anesthesia. We told him that Banfield Corporate doesn't know they are doing declaws. He said, "I don't know how that would be."
We said because maybe they aren't reporting them to Corporate. He said, "Well I beg to differ. Every surgical procedure we do is documented in a computer system and in medical records."
The manager also told us that we should reach out to their declawing vet, Dr Terri Fujikawa for the laser declawing questions. He gave us her email but apparently she blocked us before we even sent her our note.
UPDATE Feb. 25, 2021. We received a response from Banfield corporate. Here's what they said, "The health, safety and wellbeing of pets is our top priority, and for this reason we do not support the elective declawing of any animal. We make no exceptions to this policy across our more than 1,000 hospitals nationwide. After implementing the policy in January 2020, we operationalized the change and worked to ensure all of our hospital teams were aware of and understood the reasoning behind our decision. This hospital team is no exception, and our local field leadership is working with them now to better understand the current situation and ensure that no elective declaw procedures are performed. Banfield will continue to educate on and enforce our policy across all of our hospital locations."
So this means that the folks at The Gentle Doctor Animal Hospital were informed that they need to stop declawing in Jan. 2020, but they chose to keep declawing and go against their own company's policy.
Here is another declawing review about Banfield's Gentle Doctor Animal Hospital.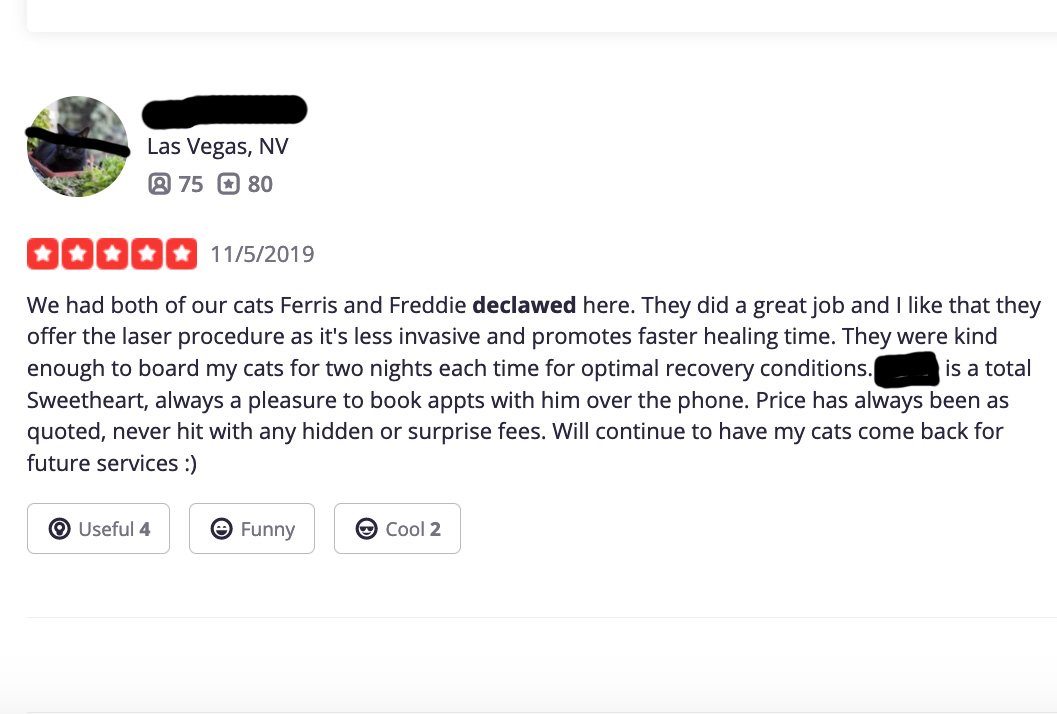 ---
Are some Banfield animal hospitals secretly going against their company's policy and performing this inhumane amputation procedure because of the easy and good money that it brings them?
——————————————————————————————————————————————————
The facts.
We were doing some research on spay and neuter clinics in Las Vegas that also declaw cats.
One of the declawing animal hospitals in Vegas, Sahara Pines Animal Hospital, referred one of our researchers to Gentle Doctor Animal Hospital for a 4 paw declaw procedure. Sahara Pines Animal Hospital does 2 paw declaws but not 4 paw declaws.
According to an employee, Gentle Doctor Animal Hospital was sold to Banfield in October 2019.
Our researcher called Banfield's Gentle Doctor Animal Hospital for a price of a spay/declaw and the employee asked, "Would you want 2 paws or all 4?"
A spay/4 paw declaw is $1200. The employee said that Dr Fujikawa does the declaws fairly often, sometimes one a week. The employee said that she uses a laser and it's better because it's less traumatic on the cat and tissue because it cauterizes. They said that she only goes to the 2nd knuckle and the traditional declaw goes to the 3rd knuckle.
When asked if declawing is ok for a cat the employee said that if a declaw is done on a younger cat it's ok.
To confirm that this animal hospital declaws cats, another researcher spoke with a different employee and asked for the price of a spay/front declaw and the employee asked if they want two or four paws. They said a 2 paw declaw is $660 and a 4 paw declaw is $250 more which is $910.
---
We checked on some Banfield Animal Hospitals throughout the country and all of them, except for one, said they don't declaw cats.
Banfield Forest Park in Ohio said that they would only declaw for a medical issue. They said if you get a note from your doctor saying that you are susceptible to cat scratches, for example if you have diabetes or are immune-compromised, they will do a declaw.
---
Here's some info we published in 2017 about the Gentle Doctor Animal Hospital, which was an AAHA Accredited Animal Hospital at the time.
They had this on their website, "the most humane method of feline onychectomy (declawing) is laser declawing."
The information has since been removed.
http://gentledoctor.com/veterinary-services/pet-surgery/feline-laser-declaw.html
Screenshot from gentledoctor.com website.
---
THE FACTS ABOUT LASER DECLAWING.
(Laser declawing vets like to deceived their clients and say that declawing with a laser is safer and better. That's a lie. Lasers burn off the toe bones and claws on cats. These laser declawing vets need to do a lot of declaws to pay back those $35,000 laser machines.
A study reported in the September 1, 2002 issue of the Journal of the American Veterinary Association by Mison, et al., reported that lasers offered no benefit over the more conventional methods of declawing, stating "differences in discomfort and complications between groups treated via scalpel versus CO2 laser were not clinically relevant."
Levy, et al. (1999), found that complications (bleeding, limping, swelling, infection) were generally worse in the laser onychectomy (declawing) group, compared against blade onychectomy in the first 2 days after surgery. Laser declawing can result in 4th degree burns.
The long-term pain and other problems with the laser declaw procedure remain the same as with the other methods.)