Published Aug. 2018
Diagrams from Cats Only Veterinary Clinic [button href="http://catsonlyvetclinic.net/declaw-diagrams" newwindow="yes"] Declaw Diagram[/button]
This is one of the many archaic, old-school declawing vets who needs to be educated about the facts about declawing. He must love cats since he has a cats only vet practice and even says, "We love them like you do" on his website.
Dr Carlin surely doesn't realize that he is unwillingly mutilating and harming hundreds of cats by barbarically chopping off part of their toe bone, and he needs our help. He is using declawing information from 1974.
This study PROVES how mutilating declawing is, ESPECIALLY the method that Dr Carlin is using. [button href="https://www.sciencedaily.com/releases/2017/05/170523124130.htm" newwindow="yes"] Declawing study[/button]
---
I respectfully reached out to his practice to ask Dr Carlin some questions about the declawing info on his website and other questions. (Email is at the end of this story)
I spoke to the vet tech and also the manager at this practice and asked her about his technique and informed her that he was cutting off the bone and that it is mutilating and harmful to cats. She said that she went to school and and Dr Carlin doesn't do it that way. She said, "He extends the claw out and takes the nail at the base."  The manager said that they do quite a few declaws each week and they have never seen any issues and the cats recover very well.
The manager of his practice also wrote me back and said, "Good Afternoon,
We share your concern when the procedure is done improperly. Dr. Carlin has been a veterinarian since 1982 and feels very comfortable doing this procedure correctly. An excellent reference is Dr. Joseph Bojrab, "Current Techniques in Small Animal Surgery," page 274.
Blessings,
Cats Only Veterinary Clinic
1304 N. Maple, Searcy AR "
Dr Stan Carlin has some GREAT INFO about the HUMANE options to declawing but then goes on to say some very archaic and old-school things about this mutilating procedure. Link to this declawing info on his website [button href="http://catsonlyvetclinic.net/declaw" newwindow="yes"] Cats Only Veterinary Clinic[/button]
---
 Screenshot from Cats Only Veterinary Clinic's facebook page. ———————————————————————————————-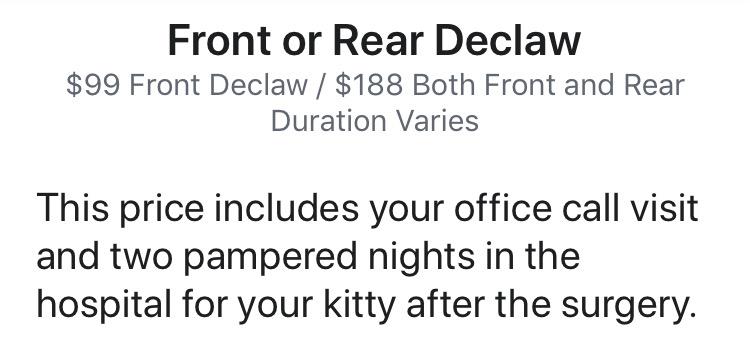 ---
——————————————————————————————–More stories about old school declawing veterinarians. [button href="http://www.citythekitty.com/must-educate-old-school-veterinarians-declawing/" newwindow="yes"] Archaic, old school declawing vets[/button]
---
PLEASE REMEMBER TO TAKE THE HIGH ROAD AND DON'T BE MEAN OR THREATENING. WE MUST EDUCATE THE PUBLIC AND THESE OLD SCHOOL DECLAWING VETERINARIANS ABOUT THE FACTS ABOUT DECLAWING AND ABOUT THE EASY, HUMANE OPTIONS.
WHEN YOU ARE MEAN, IT HURTS THE CA– USE, IT'S WRONG, AND IT OFTEN HURTS ME BECA– USE THEY BLAME YOUR WORDS ON ME. THANK YOU.