Photos are of declawed kitties that are in shelters/rescues near the NYSVMS 2015 President, Dr Dean Snyder, and current President, Dr Susan Wylegala's, veterinary practices in New York. The New York State Veterinary Medical Society and other veterinary associations are working hard to stop the bill in New York that would ban declawing.
One of the MAIN reasons they say that they should be able to keep declawing cats is so that it "allows a beloved feline companion to continue to live in a household rather than relinquishing the family pet to a shelter. Declawing should remain a viable alternative to euthanasia if all other options have failed."(From the NYSVMS official memorandum in opposition that was given to the NY legislators)
They are telling the NY legislators that they really, really care about cats and don't want them to end up in shelters.
I thought the only way to really verify that they truly care about cats staying out of shelters is to see if they would personally help when you say that you are going to take your cat to a shelter for another behavioral issue that doesn't involve declawing or making good money on toe amputations.
(The President of the NYSVMS makes $66 per toe for a 2 paw declaw and she gets a little less per toe for a 4 paw declaw- $44 per toe.) (The President of the Long Island Veterinary Medical Association makes $38 per toe)

The best place to ask for help would be to these veterinarians who say that they care so much about keeping a cat OUT of a shelter that they will go against their veterinary oath to heal and do something that they really hate doing (amputating cat's toes and claws) to keep a "beloved feline companion" in a home.
---
---
I had an independent feline research group help me with this study so that no one could accuse the study of being biased.
These researchers reached out to the veterinary practices of the President of the NYSVMS, the President of the Long Island Veterinary Medical Society and some of the officers of the NYSVMS practices.[button href="http://citythekitty.org/unethical-vets/" color="red" newwindow="yes"] NYSVMS & LIVMA try to stop the NY Bill[/button]  
The scenario was that a cat owner had a 3 yr old cat that was jumping up on kitchen counters and a husband that was going to force these cats to be taken to a shelter next week if this wife couldn't get help to stop this behavior. It was an URGENT and DIRE situation because the owners had tried everything and this cat was going to end up in a shelter next week.
---
Here is what this study found.
The President of the New York State Veterinary Medical Society's veterinary hospital- Employee at Dr Susan Wylegala's veterinary hospital said that they could only help by putting something on their bulletin board. They told the cat owner to put an ad in the newspaper. The cat owner was desperate and asked if there are any other options and the employee told the cat owner that there is the local SPCA or Buffalo Shelter.
The President of the Long Island Veterinary Medical Association's practice- Employee at Dr Nicole Paccione-Gerbe's veterinary hospital said that they only have behavioral programs for dogs. They told the cat owner to go online and look for help that way.
---
The other veterinary practices of some of the NYSVMS's officers gave the following advice.
Veterinary practice in Williston Park, NY– They told the cat owner that they only treat cats medically and sick patients  and for the cat owner to go online and they suggested a no-kill shelter.
(This is a cat only practice. They will even email you a 10% discount offer to do both your 3 month old kitten and 2 1/2 yr old cat for $1513.80. When cat owners ask them if it's safe and ok to do, their employee tells you, "Oh absolutely, we do many, many, 100's of declaws and I've been here 15 yrs and we use a laser and it's much more better, there's no bleeding and it's terrific. I've had my own cats declawed and not to worry."
---
Veterinary practice in Gloversville, NY- They offered to take down the cat owners information and try to get help so that the cat won't be taken to the shelter. They also suggested the Brennen Humane Society as an option.
(Cat owners inquiring about declaw info at this practice will be sent this form and they tell you in an email, "We frequently do declaws. We use a carbon dioxide laser to do the procedure which helps greatly reduce bleeding, pain and heal time."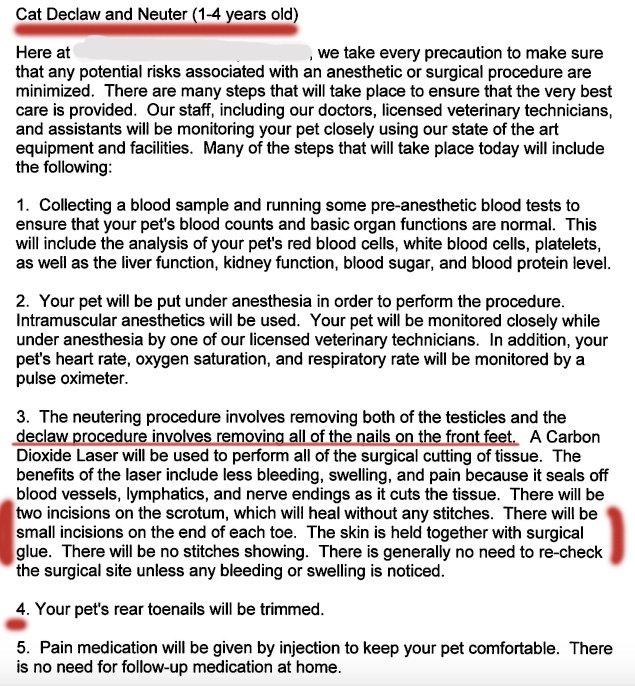 ---
Veterinary practice in Lyons, NY– They said they can't help and gave the name of the Humane Society of Wayne County to take the cat to.
( This places charges $225 for a front declaw. When cat owners ask if their cats will be ok they tell you, "Oh yea. We've done them for years. They tell you they use laser and say, "We used to do them with a scalpel and cut them at the joint. With a laser it cuts and cauterizes at the same time. It just makes it cleaner, less stress on the animal, and quicker and cleaner."
---
Veterinary practice in Brewerton, NY- They said they can't help and suggested KittyCorner.org or HumaneCNY to take the cat.
(They charge $315 for a front declaw plus $42 exam. They don't use a laser but when you ask if your kitty will be ok, employee says, Yes, both my cats were declawed by Dr….. and they are fine)
---
Veterinary practice in Pittsford, NY–   They said to go online to Jackson Galaxy's website and other online suggestions. They said to NOT take the cat to Lollypop Farm, Humane Society of Greater Rochester NY a because the cat would "just sit there." They said they couldn't offer anymore help other than going online.
(When cat owners ask for declaw prices on phone their employee says they charge, "for a baby kitty it's $447 and for an adult cat it's $504. When you ask if it's ok they tell you the doctor that does the declaws is "good at them." They say to just bring the cats in and they will get her all up to stuff and ready for the surgery.  Another cat owners asked to get 3 month old kitten declawed and in emails this practices tells you that cat's "appear to recuperate quicker when surgery is done younger. They weigh less and therefore there is less stress on their feet when trying to stand again. We do not find laser necessary for this operation. We typically have the kitten stay two night with us at the hospital for post-operative care. When they go home they get along very well but if they are over-active(like kittens sometimes are) you may note some spotting from the incisions. We recommend the use of pelleted litter post surgery for about a week and a post-operative recheck to check for swelling or any problems." Then they say, "the doctor will want to fully discuss all other options with you prior to declaw as it is a major procedure amputating the flanges."
---
What kind of insight can we gain from this short research study?
You would think that if they really did care about keeping a cat out of a shelter they would have "behavioral programs" that could be a half hour session to educate cat owners on helpful information like this and for scratching issues that would keep a cat in a home. It might not be a big money maker for them but at least they would have it available like some do for dog behavioral programs.
As far as I can tell, NONE of these veterinary "LEADERS"  offer behavioral programs for CATS.
Why don't these veterinary practices tell cat owners, who want to get their cats declawed, to find a behaviorist, go online and look up all the helpful scratching tips and information about how bad declawing is for a cat, or put on Soft Paws? Why do most all of them acquiesce and amputate the kitties toe bone and claws and use the excuse that they do it because they don't want the cat owners to throw their cats in shelters. WHY DON'T THESE PRO-DECLAW VETERINARIANS WORK HARD TO INSTILL A MORE COMPASSIONATE MINDSET IN THEIR CAT CLIENTS TO KNOW THAT DECLAWING HARMS THE HEALTH AND WELL BEING OF THEIR CAT$ and that the humane alternatives always do work? Are any of them offering services like applying soft paws? I don't think so.
Why don't any of them have educational information about scratching issues OR about how declawing is amputating the cat's toe bones and claws? Why do they only have info like how great their lasers work for amputating cat's toes and that it is "much more humane" than the traditional way like this President of the NYSVMS had up on her website?
---
This President of the NYSVMS, Dr Susan Wylegala, will gladly take your money and amputate your kitties toes with a laser or the "traditional way" ,  even if your kitten DOESN'T have scratching issues and EVEN if it is a 3-4 month old kitten that is just starting its life out and hasn't even had the chance to show it can use scratchers. (Those are examples from cat clients of this President of the NYSVMS, Dr Susan Wylegala, who had their kittens declawed by her.  The President was in New York yesterday lobbying to try to $TOP our important Cat Protection Bill that would protect cats from being declawed.)
---
Here are some declawed kitties sitting in rescues and shelters near this President of the NYSVMS veterinary hospital in Cheektowaga, New York.