The NJVMA has to lie and use fake facts to protect their right to declaw cats.
It's almost as if they know there is no good reason to declaw but are trying to convince themselves that it's ok to still make money from mutilating cats.
Here is a letter of support from a New Jersey vet with the REAL facts about declawing [button href="http://citythekitty.org/new-jersey-veterinarian-says-declawing-is-malpractice/" newwindow="yes"] Letter of support from a NJ vet for the declawing bill[/button]
---
---
---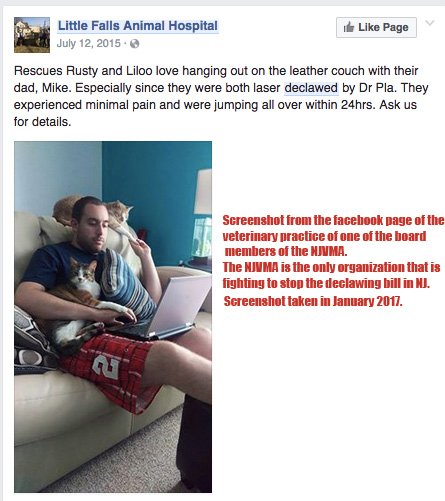 Screenshot of this photo is from facebook from January 2017. This is the practice of one of the NJVMA's board member vets, Dr Neal Beeber. More about the way this practice and other New Jersey vet practices address declawing in this extensive declawing study [button href="http://citythekitty.org/studynjvetsdeclawing/" color="orange" newwindow="yes"] NJ Declawing Study[/button]
---
 The NJVMA hired this firm to help stop the declawing bill in New Jersey. Here is the official note they sent to the New Jersey legislators for the vote on the bill on Monday, Jan 23, 2017.
Here is my story showing the truth over their declawing lies and propaganda. [button href="http://citythekitty.org/njvmas-lies-deceit-in-their-declawing-testimony/" color="red" newwindow="yes"] NJVMA Declawing Lies and Propaganda[/button]
P

RINCETON

P

UBLIC

AFFAIRS GROUP, INC.

PUBLIC AND GOVERNMENT AFFAIRS COUNSEL

THE PRINCETON HO– USE

160 WEST STATE STREET

T

RENTON

, N

EW

J

ERSEY

08608-1102

PHONE (609) 396-8838 FACSIMILE (609) 989-7491

WEBSITE: www.ppag.com E-MAIL: ppag@ppag.com

409 SEVENTH STREET, NW – SUITE 450

PHONE: (202) 589-0800 FACSIMILE (202) 589-1288

WEBSITE: www.wswdc.com

MEMORANDUM

TO: Members of the General Assembly

FROM: Dale Florio

DATE: January 20, 2017

RE: A-3899; Prohibits surgical declawing of cats and other animals.

On behalf of our client, the

N

e

w

Je

r

s

e

y

V

e

t

e

r

i

n

ar

y

M

e

d

i

c

al

A

s

s

oc

i

ati

on

, we urge you to

oppose the above captioned legislation.

N

o

oth

e

r

s

tate

c

u

r

r

e

n

tl

y

p

r

oh

i

b

i

ts

t

h

i

s

p

r

ac

ti

c

e

.

Please oppose because:



New Jersey's veterinarians are the leading advocates for saving the lives of unwanted or

discarded animals;



Veterinarians are educating clients on alternatives to declawing, resulting in a dramatic

reduction in use;



Advances in medical practices make the small number performed each year safe and

virtually painless for cats;



Families with medical issues would be unable to keep their cats if they were unable to

have them declawed; and



People who rely on cats for therapy and companionship would be most negatively

impacted because of the potential for infection:

o

Cat owners on lifelong transplant medication that suppresses their immune

system;

o

Cat owners on chemotherapy that suppress immune systems;

o

Cat owners on blood thinners and hemophiliacs; and

o

Elderly cat owners who live in facilities that require a cat to be declawed.

Again, we urge you to oppose the above captioned legislation. Thank you for your

consideration.

DALE J. FLORIO

BRADLEY S. BREWSTER

HON. JOHN F. RUSSO

WILLIAM J. PASCRELL, III

DAVID A. SMITH

SONIA DELGADO

HON. JACK COLLINS

ALFRED J. GABURO, JR.

LORNA D. O'HARA

PATRICIA E. MCGUIRE

KEVIN P. HAGAN

CHRISTINA ZUK

SAM WEINSTEIN

---

ALSO PLEASE HELP INSPIRE PURINA AND MARS INC. TO DO THEIR PART TO HELP END DECLAWING BY SIGNING THESE IMPORTANT PETITIONS! PLEASE DON'T SIT BACK AND HOPE DECLAWING WILL END. YOUR SIGNATURE WILL MAKE A DIFFERENCE!

[button href="https://www.change.org/p/joseph-r-sivewright-ceo-purina-inspire-purina-to-help-end-declawing-with-some-of-the-money-they-are-making-from-it" color="red" newwindow="yes"] Purina4Paws Campaign Idea Petition[/button]

[button href="https://www.change.org/p/poul-weihrauch-president-of-mars-petcare-mars-petcare-please-end-declawing-at-your-vca-banfield-blue-pearl-veterinary-practices" newwindow="yes"] Mars Inc. Petition [/button]

Photo posted on Instagram by a veterinary professional. Around 2 million cats a year are declawed in America. They experience pain, fear, and lots of suffering from this mutilating and inhumane procedure.

---

---

Photo from facebook from Dr Neal Beeber,  NJVMA board member's practice.