---
Yesterday, the NYSVMS stopped our cat protection bill in NY, that would have ended the elective, non-therapeutic mutilating procedure that these unethical veterinary professionals like to call a "medical procedure."
It's NOT a medical procedure but they convinced enough NY Senators that pro-declaw vets should be able to keep amputating kitties toe bones and claws and stopped the NY Cat Protection bill.
These "leaders" who run these powerful and rich veterinary associations, pretend like they really really care about cats like Sky the deaf cat, and say if declawing was banned then many cats would be thrown away to shelters and euthanized. [button href="https://citythekitty.org/do-they-really-care-about-keeping-a-cat-out-of-a-shelter/" color="red" newwindow="yes"] Do They Really Care About Keeping a Cat OUT Of A Shelter? [/button]
Wow, talk about smoke screens, deception, and bs.
Folks, it's time to keep spreading the awareness about this inhumane procedure so that we can at least save many kitties in NY and in EVERY SINGLE STATE in AMERICA from landing in these unethical "doctors" hands and from having their paws mutilated and destroyed unnecessarily. These are very unethical people who call themselves "doctors."
I know what you are thinking. What's wrong with these people who supposedly entered the noble profession of veterinary medicine to HEAL and HELP animals. (Oh and remember the NYSVMS was proud to tell their members in 2014 that they "took the lead" in stopping a bill in NY in 2014 that would have banned the inhumane force feeding of ducks for the fatty, diseased liver they call foie gras)  They were really proud of that too. Here's the story of how the NYSVMS treasurer was the one who organized their NYSVMS 2015 & 2016 fun outings to the Hudson Valley Foie Gras Torture Farm to watch the ducks get the long metal bars shoved down their throats and force fed larger amounts of food a few times a day, until they become sickly and their livers swell up so that they can sell the diseased, fatty liver as a delicacy.  Then all the vets and friends and family enjoyed force feeding their unethical selves this disgustingly inhumane "delicacy." [button href="https://citythekitty.org/nysvms-opposes-legislation-that-would-protect-animals-from-cruelty/" color="red" newwindow="yes"] NYSVMS Foie Gras Friendly Vets[/button]
Folks these are people who supposedly became vets to HELP and HEAL all animals. Most of these pro-declaw vets can't be trusted and are unnecessarily harming kittens and cats.
---
---
Here is what the NYSVMS 2016 President, Dr Susan Wylegala,  said in her first newsletter to her 5000 veterinary members. Yep, their goal in 2016 was to prevent the movement of our declawing bill and they also want to prevent a bill that would end the mutilation of a dog's vocal cords.
---
The NYSVMS President  even declaws kittens at her practice who are 3-4 months old and have no scratching issues. Her employees ask cat owners when they inquire about declawing prices if they want "two paw or four paw, laser or traditional." Dr Wylegala says that burning off toe bones is "much more humane" yet she offers the "traditional" less humane or inhumane way at her practice for $100 less. Hmmmm. She also makes $66 per toe amputation for a 2 paw and  [button href="https://citythekitty.org/does-the-nysvms-president-walk-the-talk/" color="red" newwindow="yes"] How the Pres of NYSVMS & Officers Address Declawing at their practices[/button]
Here is one example of a sweet 3-4 month old kitten named June that was recently declawed at Dr Wylegala's vet practice. Reason for the toe amputations? To prevent it from reaching through a bird cage and scratching this cat owner's bird. This cat owner said the "birds come first" and obviously Dr Wylegala and her practice had no objection to that.

---
Here is what Dr Dean Snyder, 2015 NYSVMS President said in one of their newsletters about our cat protection bill in NY last year. "We scored a DIRECT hit" and "We scored a major win for the veterinary profession."
WHAT ABOUT THE WELFARE OF CATS YOU UNETHICAL POWER TRIPPING HUMANS?
"Marshal our forces, create an action plan,  implement our tactics, and score a win within six days time" Dr Dean Snyder told his veterinary members.
Folks they are boasting about their efforts to be able to keep performing unnecessary cat torture and animal cruelty all under the guise that they care about cats. [button href="https://citythekitty.org/the-propaganda-that-the-nysvms-is-spreading-about-declawing/" color="red" newwindow="yes"] NYSVMS Declawing Propaganda[/button]
Do they sound like compassionate and caring doctors of veterinary medicine who want to protect cats from harm and help them lead happy and healthy lives with all their much needed body parts?
Sounds like these greedy veterinary forces are more interested in taking power over helpless cats so that they can keep making money from amputating cat's toes. They want to make sure they keep the status of cats to just a piece of property so that their liability is low if they cause harm and suffering to cats during this elective, non-therapeutic mutilation surgery. [button href="https://citythekitty.org/3-kitties-declaw-story/" color="red" newwindow="yes"] AVMA/AAFP longtime vet declawed 3 Kitties at an AAHA hospital then took a European Vacation afterwards[/button]
---
And here is the current post from the leader and President of the NYSVMS who took time out of her busy day last week to go to Albany and speak to the legislators on why they should oppose our important cat protection bill.
---
---
If you want to go to their website and see all the photos of the NYSVMS officers and this President schmoozing with the NY Senators and legislators, then here is the link. Scroll down to NYSVMS Publications and click on the latest pdf, May/June issue. But be warned it might make you very ill seeing those photos. [button href="http://www.nysvms.org/?page=kc" color="red" newwindow="yes"] NYSVMS leaders with NY Legislators[/button]
They say this above all the photos," The New York State Veterinary Medical Society held its annual Legislative Reception Tuesday, March 15 at the Fort Orange Club in Albany. More than 25 legislators attended this signature event. Veterinarians and leaders of the NYS Senate and Assembly discussed issues critical to the profession."
---
Seeing all those photos of their smiling faces made me just think of all the poor kitties who will have their lives forever changed for the worse after they do such a barbaric and painful procedure to them.
Photo from Instagram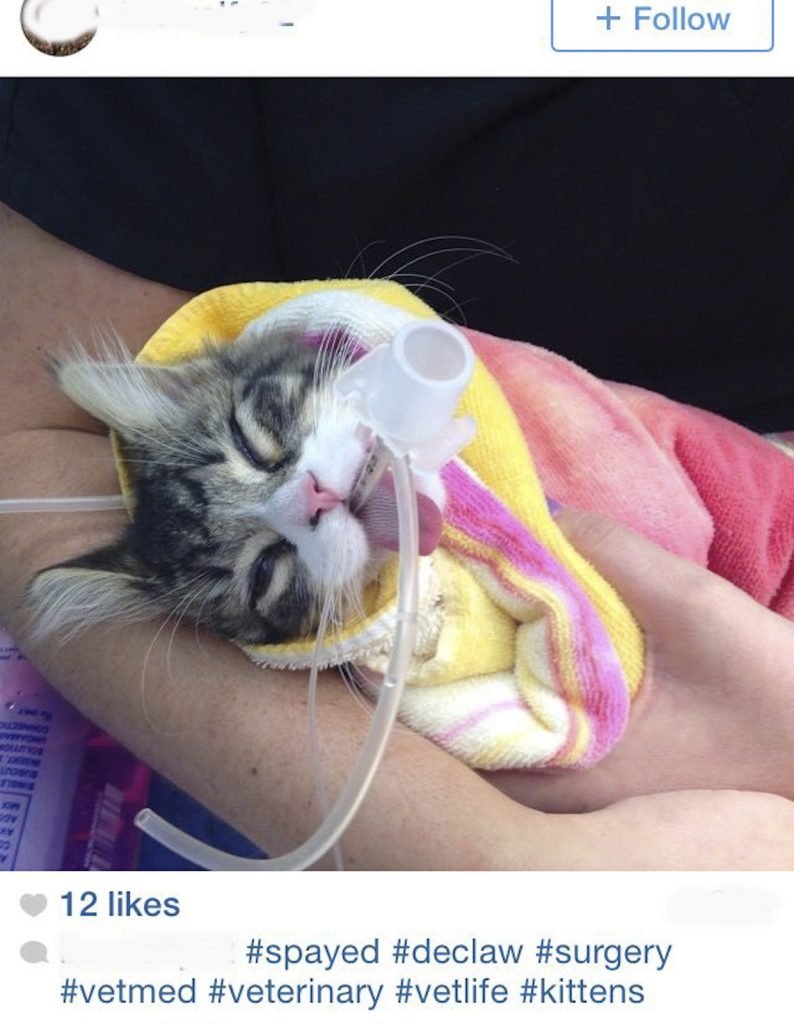 ---