Last night I received many notes from people who were outraged and very concerned that this animal hospital in Pacific, Missouri said they were going to 4 paw declaw these 14 kittens that they rescued.
The veterinary professionals at this hospital deserve the accolades for helping with saving the lives of kittens and cats that they rescue, but then they turn around do a mutilating and inhumane procedure to the cats that will harm their health and well-being for a lifetime.
Pacific Animal Hospital in Pacific, Missouri made this post on June 13, 2017. An employee wrote a comment on the post and said that the kittens weren't declawed yet and she defended their hospital's reasons for declawing.
Unfortunately this practice is run by old school veterinarians (Dr Jones is an AVMA vet) who don't seem to stay up to date on the latest continuing education on declawing.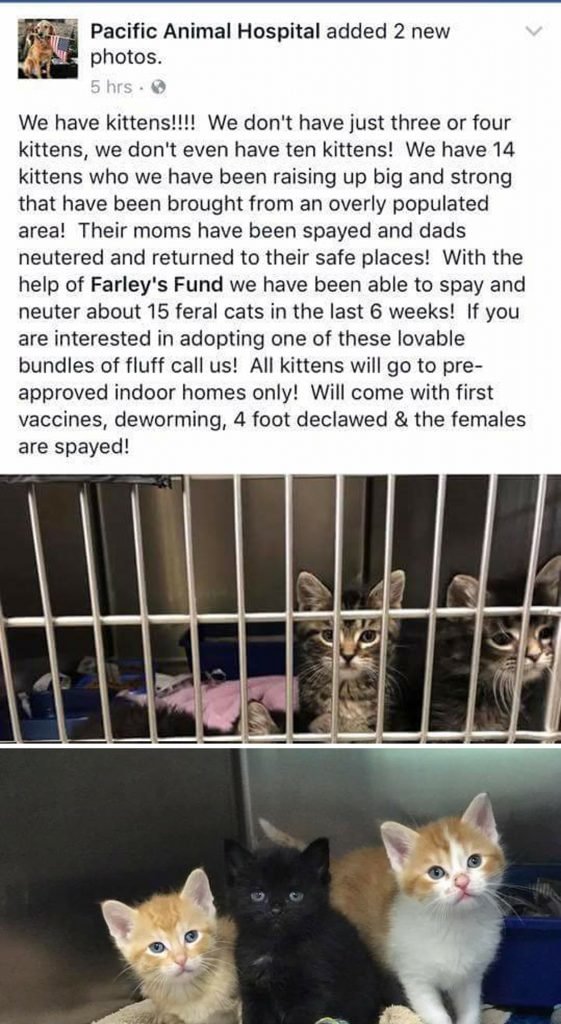 ---
Here is the comment from an employee at this hospital on this post that was taken down.
---
Comments on the post from the practice manager.
---

---
HERE IS HOW YOU CAN HELP SAVE THESE KITTENS!
Here's Pacific Animal Hospital's facebook page- Pacific Animal Hospital's facebook page
and their website Pacific Animal Hospital's website
Please send this post to the AVMA and American Assoc. of Feline Pratitioners (AAFP) so that they can help us save these kitties from having their toes amputated. AVMA and AAFP facebook pages links- https://www.facebook.com/avmavets/ https://www.facebook.com/CatVets/
AVMA Communications director email- MSanFilippo@avma.org and AAFP email- info@catvets.com
Please send a respectful letter to these local newspapers and ask them to do a story about this urgent issue- Editor of the Pacific Missourian- paulinemasson@att.net
Website of the St Louis Post-Dispatch newspaper, www.STLtoday.com and send a letter to the editor with this story.
---
CURRENT EDUCATIONAL INFORMATION ABOUT DECLAWING THAT YOU CAN — USE TO EDUCATE DECLAWING VETERINARIANS AND THEIR STAFF.

Here is the 2017 position statement from the Canadian Veterinary Medical Association that condemns declawing- https://www.canadianveterinarians.net/documents/partial-digital-amputation-onychectomy-or-declawing-of-the-domestic-felid-position-statement
Everything a veterinarian and cat owner need to know about declawing in a handbook by Dr Jean Hovfe who is an expert in this subject- http://www.littlebigcat.com/declawing/anti-declawing-handbook-for-cat-lovers/
Information on declawing and the humane alternatives by an expert on this subject, Dr Christianne Schelling-http://www.catscratching.com/
Here is information from a vet practice about the myths of laser declawing- http://www.arborridgepetclinic.com/the-truths-and-myths-about-laser-feline-declaw-sur.pml
Here is the letter of support from the biggest animal shelter in the world for the NY anti-declawing legislation.
---
Somehow we need to respectfully educate these kind of declawing veterinarians and other veterinary professionals about the latest facts about declawing and how it is never necessary since there are humane alternatives that they can teach their clients. This is the only information I could find about declawing on their website. http://www.pacificvets.com/services/declaw/
Please make sure you are just respectful and kind when you reach out to these kind of veterinary professionals so that your message gets through to them and they will open up their minds and hearts to the educational information that you send them. Many of these declawing vets might be just really busy saving dogs and other animals and don't want to keep up on the latest cat information.
DO NOT THREATEN OR ATTACK THEM IN ANY WAY BECA– USE IT IS WRONG. PLUS IF YOU SAY MEAN THINGS TO THEM THEN THEY WILL JUST TURN THINGS AROUND AND PLAY THE VICTIM AND THE ONLY VICTIMS IN THESE KIND OF SITUATIONS ARE THE KITTIES WHO ARE UNNECESSARILY HAVING THEIR TOES AND CLAWS BARBARICALLY AMPUTATED. ALSO IT HURTS OUR CA– USE IF YOU ARE MEAN AND THREATENING SO PLEASE BE KIND AND JUST EDUCATE THEM! #TakeTheHighRoad
Thank you so much to all of the awesome human beings like Emily from a St Louis area rescue and others who alerted me about this terrible situation and who are helping to spread the awareness about our cause and educate the public about this very inhumane, cruel, and unnecessary amputation procedure. You are all my heroes!